Americans want their cannabis products and the US Food and Drug Administration (FDA) wants to keep them safe.
It's a wild, wild west out there in the CBD market with grey areas and loopholes in FDA regulations, leaving the territory open to both legitimate company's and "snake oil" salesman" in a billion dollar industry. But that could change.
On Friday, May 31, the FDA held its FIRST public hearing to evaluate the current and future direction of the CBD industry.
"While we have seen an explosion of interest in products containing CBD, there is still much that we don't know," said Dr. Ned Sharpless, acting commissioner of the FDA.
Considered a significant turnout, 800 registrants attended the first CBD public meeting remotely via webcast and 500 physically attended the meeting hosted in Silver Spring, Maryland by the FDA. The participants included scientists, small business owners, medical professionals and consumers. Approximately 100 people testified. Key regulators were also in attendance along with the manufacturers of Epidiolex, the first FDA approved CBD pharmaceutical designed to treat a rare form of Epilepsy.
The purpose of this first public hearing on cannabidiol (CBD), represented the first action step in a plan laid out by former FDA commissioner, Scott Gottlieb, on molding a framework for the lawful meeting of appropriate cannabis and cannabis-derived products.
Farm Bill Changed the Panorama of CBD Regulation
The hearing was inevitable following the 2018 Farm Bill. It ushered in a new category of cannabis classified as "hemp," "cannabis and cannabis-derived products which contain extremely low concentrations of THC", the psychoactive component often associated with cannabis. The definition of "low" was further defined as containing less than 0.3 percent on a dry weight basis of THC.
The 2018 Farm Bill furthermore removed hemp from the Controlled Substances Act,  which means it is no longer a federally controlled substance. Concurrently, Congress maintained FDA's authority to regulate cannabis and cannabis-containing products under the Food, Drug and Cosmetic Act (section 351 of the Public Health Service Act) recognizing FDA's pivotal public health role with respect to the products it regulates. This allowed for the Food and Drug Administration to continue the preservation of enforcement actions to protect patients and the public while also proposing regulatory guidelines and pathways for stakeholders.
Since then, CBD products became a Billion Dollar industry. Cannabis compounds are already found in food, drinks, dietary supplements, animal products, candy, syrups, oils, skin patches and more.
It is estimated that CBD product sales will hit 22 billion US dollars by the year 2022. The explosion in retail sales has made it imperative for the FDA to act quickly in setting regulatory guidelines for stakeholders.
Separating Snake Oil "Hype" and Evidence-Based Research
Ten hours of grueling testimony designed to separate the "snake-oil" hype and real research did not yield answers to any of FDA's agenda pressing issues. Items pertinent to regulation and safety, however, were brought up by stakeholders as items of concern.  Issues such as lead contamination in 34% of the CBD samples tested, inconsistent amounts on labels vs. what was in the product, lack of evidence-based dosing guidelines, unfounded claims being made by purveyors and lack of quality standards were all listed as problematic to collecting needed data.
FDA got the message that the audience was not ready to answer the evidence-based questions FDA was looking for.
FDA wanted hard evidence on outcomes, on dosage guidelines, expiration dates, manufacturing standards, threshold limits, safety concerns- they wanted data stakeholders were not prepared to provide as they were seemingly unfamiliar with the research terrain.
Testimonials regarding observational data or personal stories were abundant, but not the type of evidence-based data FDA was hungry for. They believe that testimonials tend to get turned into "snake-oil" hype following no evidentiary guidelines and offering only variable infested personal stories that may not affect others in a similar manner and are not reproducible in a study setting.
What the FDA wants is a ton of reliable studies backed by scientific empirical evidence. While many preliminary studies have been proven to show promise, they have not been substantial enough to classify the compound as an active ingredient as of yet.
It was a charged meeting with just as many proponents of the CBD craze as Reefer Madness-like naysayers, leaving the FDA with plans for follow-up reviews. To make sense of the grueling 10 hours, we put together a brief takeaway list to sum it all up.
EXPERIENCE THE PAIN RELIEF REVOLUTION™
6 Meeting Take-Home Messages
After all was said and done, 6 messages came out of the public hearing:
1. Need for More Legitimate Studies
We seem to be in the Wild West of CBD sales with personal testimonials running the market. Some purveyors are taking advantage of the lack of regulation to pump questionable products into the market. Sketchy stakeholders fail to collect data on the quality or outcome of their products. The CBD scene is a patchwork quilt of laws where anything goes. This approach must change to assure a safe and quality product for all consumers delivered without undue side-effects.
Now "regulators are urging FDA to resolve the statutory issues and properly establish a legal pathway for CBD products to enter the marketplace."
2. Consumers Have No Path to Determining What Is a Legitimate Product
Consumers who know the industry still have a hard time knowing what CBD brands to personally trust. Consumers just have no way of knowing what is "snake oil", vegetable oil, or cough syrup for that matter. In this respect, more leadership and data are needed from stakeholders.
CBD MEDIC™ is the first of a small handful of CBD-blended products on the market to obtain an OTC monograph. Since the products are manufactured and audited in a Current Good Manufacturing Practice (cGMP) facility to ensure high-quality control standards, the products can be trusted.
But that's sadly not the case for many of the products boasting CBD.
Now, the FDA plans to tighten its reigns for consumer protection. While there are certainly opponents to the stricter controls, its certainly in the better interest of a now often-duped public.
3. Many People Are Still Clueless About CBD
Part of the mass confusion in the marketplace is that people in general do not know what CBD is. Cannabis plants have many natural compounds, including cannabinoids. Cannabidiol (CBD) is just one of the of the cannabinoids alongside, THC, the psychoactive compound. But thanks to a nearly century-long ban, the public is not entirely aware of the differences.
Many think CBD is psychoactive, comes only from the marijuana plant, can cause addiction problems and have no idea of its legal status. But CBD is the non-psychoactive compound of the plant, is non-addictive, and considered safe to most consumers.
CBD can be extracted from the marijuana plant or the Cannabis sativa L. hemp plant. The difference between the two is that the marijuana plant contains THC, a psychoactive substance federally regulated, and the hemp plant contains no THC or negligible trace amounts of the compound.
4. Safety of CBD and Consumer Protection
FDA ended its meeting with a plea for more data on safety issues. What are the safety guidelines for children, what are threshold amounts for dosages and what about pregnant and breastfeeding women? The makers of Epidiolex highlighted their finding that they did not know there was a possibility of liver involvement until they performed their safety studies. Additionally, former FDA commissioner Scott Gottlieb warns of long-term effects of CBD that have not been addressed.
That said, it is reassuring that the World Health Organization (WHO) claimed last year that CBD is relatively well tolerated with a good safety profile and no addictive effects. It did point out, however, the potential for drug interactions that need to be studied further.
5. Concerns About Side Effects and Use of Anecdotal Evidence
The power of personal stories has spiraled CBD to the top of the sales charts, but personal stories do not provide evidence of related side effects — nor are they designed to. What FDA wants and is clearly crying out for is hard data on potential side effects from both short and long-term use. Also of concern are the differences in outcomes/side-effects of the varying routes of administration whether oral, inhaled or ingested. According to some speakers, routes of administration can change dosage guidelines, side-effect profiles and outcome expectations.
6. Dietary Supplements, Medical Claims and Cosmetics
CBD is currently illegal to sell in supplement form. No medical claims are allowed for this product until it goes through the same drug review process as other derivatives have such as Epidiolex.
There is no recognition of a therapeutic effect of non-pharmacological CBD products at the federal level yet and none can be advertised because there is no evidence to support the claims. It isn't that CBD has no effect therapeutically as much as we have not yet proven in a legitimate series of study designs that an effect exists in a therapeutic capacity in the dosages provided.
The ability to provide this information to the FDA is what will separate the "snake oil" salesmen from the providers of a validated quality CBD product with proven efficacy and safety. Clearly needed standardization guidelines could not be emphasized enough to provide the data sought.
Closing Remarks and Future Agenda
The biggest concern FDA has is the marketing of products that may put the health and safety of consumers at risk and selling unapproved drug products with unsubstantiated therapeutic claims.
At the same time, beneficial therapies should not be withheld from a needy public. The FDA intends to expand their regulation framework with an internal working group of scientists, medical experts and researchers to explore potential pathways for CBD- containing dietary supplements and/or conventional foods to be lawfully marketed.
In addition, the FDA seeks public comment until July 2 on this matter. If you are a consumer, researcher, or stakeholder; submit your public comments here in order to keep the conversation going.
And remember to do your do diligence before purchasing a product containing CBD. You can purchase CBD MEDIC's reliable products at CVS and other small pharmacies nationwide.
Find a Store Near You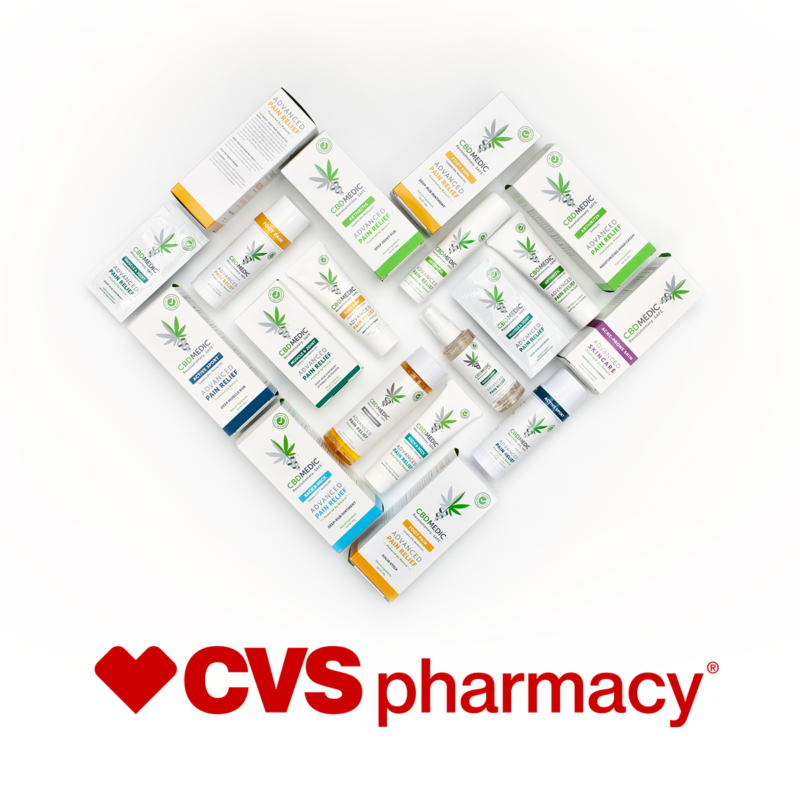 Disclaimer: This information is for educational purposes only. It has not been approved by the FDA to diagnose, treat, prevent, cure, or mitigate any diseases or conditions. We use CBD in our products for cosmetic purposes only.